While glasses are a popular choice, many people prefer contact lenses. They have several benefits, such as helping you see clearly without needing frames. If you're interested in getting contact lenses, you'll need a contact lens fitting.
Continue reading to learn more about contact lens fittings, including what they are, why you need them, and what to expect.
The Benefits of Contact Lenses
Contact lenses are a great alternative to glasses. Not everyone wants to wear frames every day to help themselves see. These small plastic discs come in different types, sizes, and materials.
There are several benefits to wearing contact lenses:
They can correct vision without affecting your appearance
They are comfortable to wear & easy to insert
They are beneficial if you play sports
They don't affect peripheral vision
Contact lenses don't fog up or get dirty
Think about your lifestyle, comfort, hobbies, and other factors when deciding between contact lenses and glasses. Just remember, if you want contact lenses, you'll need to have a contact lens fitting.
Why Do You Need a Contact Lens Fitting?
A contact lens fitting is necessary for your optometrist to provide comfortable contacts with clear vision. Your contact lens fitting focuses on determining your contact lens prescription, what contact lenses are right for your needs, and how they fit.
Your Contact Lens Prescription
You may be surprised, but your contact lens prescription is different from your glasses prescription. Because of this, you need a contact lens exam to determine your new prescription.
The main difference between glasses and contact lens prescriptions is the required lens power. Your glasses typically sit 12 millimetres away from your eyes, while contact lenses rest directly on your eyes.
While seemingly insignificant, this difference impacts the corrective power of your prescription. Unfortunately, you can't use your glasses prescription for contact lenses.
Another difference between your contact lens and glasses prescription is the extra measurements needed for your contacts. Your contact lenses must fit well, so your eye doctor must measure the curvature and width of your eye. They complete these measurements during your contact lens exam and fitting.
What Is a Contact Lens Exam & Fitting?
A contact lens exam differs from your traditional eye exam. Your eye doctor focuses on finding the best contact lenses for your needs. Your exam typically begins with a discussion about your lifestyle and vision preferences, followed by an examination to determine your contact lens prescription.
Additionally, your eye doctor takes several eye measurements to identify the ideal size for your contact lenses, including your cornea's curvature and pupil and iris size. A tear film evaluation is necessary to make sure you can wear contact lenses comfortably.
After recommending a pair of contact lenses, your eye doctor will provide you with trial lenses to see if these contacts meet your needs.
What to Expect During the Contact Lens Fitting Process
You can expect 3 steps during the contact lens fitting process: your exam, fitting, and trial period.
The Exam
Your exam helps your optometrist determine your contact lens prescription and whether or not contacts are right for your needs. They can uncover any possible problems affecting your ability to wear contact lenses comfortably, such as:
Blepharitis
Severe dry eyes
Severe eye allergies
Unusual prescriptions
You can expect a discussion about why you're interested in contact lenses with your eye doctor. They'll ask about your lifestyle, previous experience with contact lenses, and what contact lens options you're interested in.
The Fitting
The fitting process is necessary to help your optometrist provide you with comfortable contact lenses. This process involves taking several measurements, including:
Corneal curvature: This measurement helps your eye doctor determine the curve & diameter needed for your contacts.
Pupil & iris size: These measurements help your eye doctor identify the best contact lens design for your eyes.
Tear film evaluation: This evaluation helps determine if you have enough tears to keep your eye's surface moist. Dry eyes can make it difficult to wear contact lenses.
The Trial Period
After your eye doctor determines what contact lenses are right for your needs, it's time to try them on. You will receive trial contact lenses to use for a short period to see how your eyes adapt and adjust to using them. Your optometrist will book a follow-up appointment to discuss your opinion on your lenses and if any changes are needed.
Once you've found the right contact lenses, your eye doctor can order you a supply. Additionally, they will teach you how to clean, maintain, insert, and remove your contact lenses effectively. While contacts are a great alternative to glasses, they require diligent care and maintenance.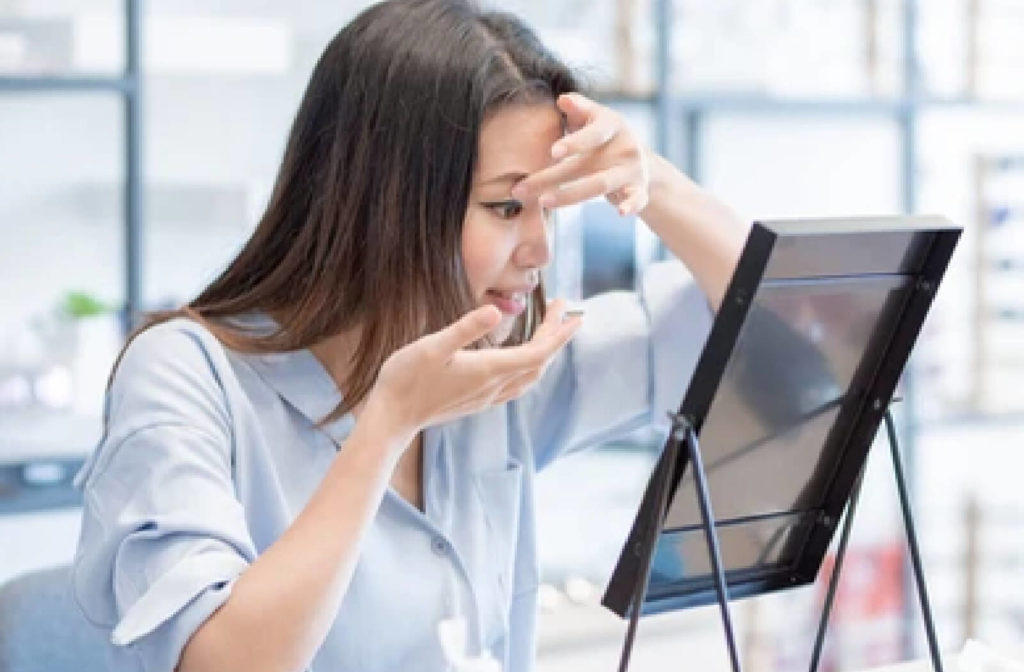 Find the Right Contact Lenses for Your Needs
Contact lenses can provide you with crisp, clear vision, but first, you need a contact lens fitting. This exam and fitting are crucial for identifying your prescription and finding the best lenses for your vision needs. You can love your new contact lenses with help from your eye doctor. Contact your optometrist if you're interested in a contact lens exam and fitting.