Living with cataracts can be frustrating. Dealing with blurred and compromised vision can make your day-to-day life more difficult than it has any reason to be. But fortunately, cataract surgery is one of the most commonly performed procedures in the world!
Because of this, it stands to reason that many people have questions about what you can and can't do. Can you fly after cataract surgery? What do you have to do during the recovery time? How long before your eyes are back to normal? These are all perfectly normal questions to be asking before and after your surgery.
It's completely safe to fly after your cataract surgery, and it doesn't take long at all for your eyes to get back to normal. It is, however, recommended to avoid driving immediately after the operation since you may still be feeling some side effects.
After the surgery, you'll have to follow up with your optometrist to make sure that your recovery is going smoothly. And it's always best to continue going for regular comprehensive eye exams so that your optometrist can make sure your vision is the best it can be!
What Is Cataract Surgery?
I When there's a cloudy area in the lens of your eye, it's called a cataract. They're very common as you get older, and many people deal with them—especially those over the age of 60. Due to how often they develop, it's led to cataract surgery becoming one of the most commonly performed operations.
This procedure is a simple one. You'll receive a dose of anesthetic, and some eye drops to dilate the pupil, then the surgeon removes the lens and replaces it with a clear implant.
After the surgery, you'll be able to go home and rest up so you can begin the recovery process. After surgery you may experience:
Blurry vision
Problems with depth perception
Light sensitivity
Mild pain in the eye
Dry eye
Itchiness
Discomfort
Because of this, it's best to have somebody drive you to and from the operation. Most patients find their vision is clear enough to drive roughly 24 hours after the surgery.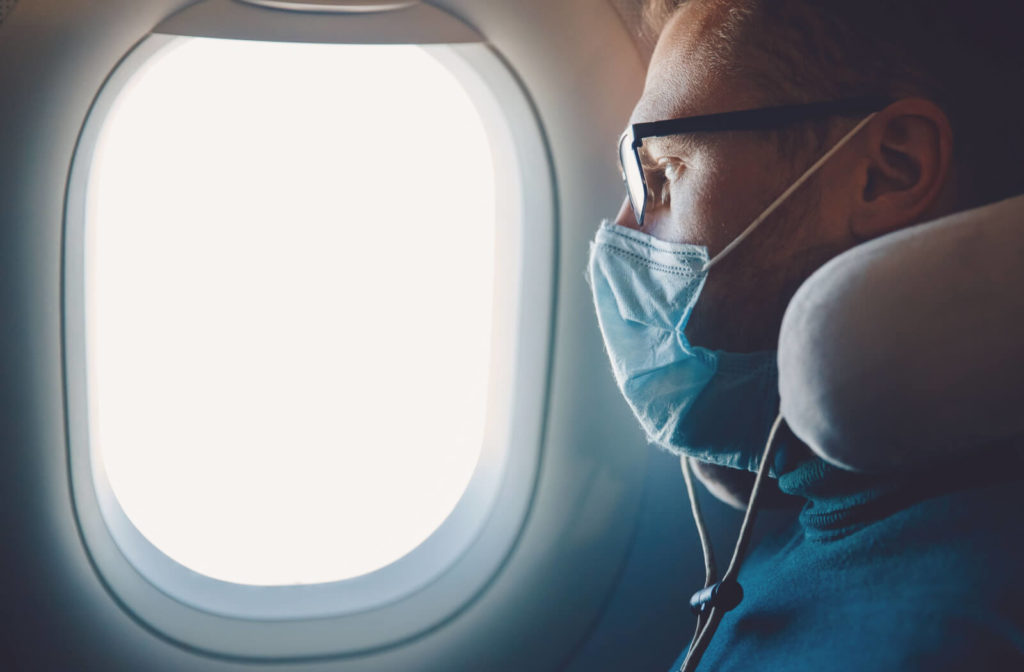 Cataract Surgery & Air Travel
If you have a plane to catch, either for work or a vacation, there's no need to worry. It's perfectly safe to fly after cataract surgery. The pressure or air in the airplane won't do any damage to your eyes. However, if you're still worried, speak with your surgeon or optometrist and get their opinion on the matter.
You may notice some discomfort from the air if you do fly since the air in planes is normally heavily filtered and fairly dry. Your doctor will have prescribed eye drops after the surgery, so it's best to use those appropriately.
You'll receive in-depth instructions from your surgeon or optometrist after the surgery regarding what care regime to follow to make sure you recover well. You'll receive a protective shield for your eyes to wear while you sleep and a pair of special sunglasses designed to protect your eyes from ultraviolet light.
What to Avoid After Cataract Surgery
It's best to look at cataract surgery like any other operation you may have experienced. Just rest, take it easy, and relax—that's the best way to give your body time to recuperate.
Take some time to yourself, catch up on sleep, and take care of your eyes following the routine recommended by your surgeon or optometrist. You should refrain from wearing makeup.It's best to avoid any strenuous exercise, weightlifting, running, or swimming. It's also recommended to avoid dusting your house or going into unnecessarily dirty areas to keep debris from getting into your eyes. If you do have to go into an area that's potentially dusty, wear a pair of protective glasses or goggles to minimize the effects it could have on your eye.
One of the most important things to avoid, though, is rubbing your eyes at all. They'll likely be irritated or itchy, and it may seem like it's harmless, but you want to avoid any and all pressure on the surface of your eyes for a while. Excess pressure or friction can lead to further complications with your recovery, and it's best to avoid that entirely. Most people find that the discomfort fades within a few days.
And avoid driving yourself for a day or two after the surgery. With the light sensitivity and blurry vision you'll likely experience, it's best not to get behind the wheel.
How Long Does it Take to Recover From Cataract Surgery?
Most people find that the side effects tend to fade after a few days, but it could take your eyes between 4-6 weeks to fully recover and adjust. If you still notice the side effects are prominent more than a week after the surgery or are getting worse with time, contact your optometrist.
Since cataract surgery is so common, it's been refined to a point where you could be seeing clearly within a couple of days (minus the temporary side effects!), which means you won't be away from your daily routine for long.
Taking Care of Your Eyes
Here at Aurora 2020, your vision is our first priority. If you're worried about cataracts or are in need of a comprehensive eye exam, schedule an appointment with us today and take the first step towards clearer vision!