When it comes to vision correction, eyeglasses are easily the most common solution. But it can be confusing to know what to expect price-wise, as the cost of glasses varies wildly.
The price of prescription eyeglasses changes depending on the quality of materials used to make the frames and lenses, but they tend to cost anywhere between $200 and $1000.
This price can change significantly depending on the types of glasses needed. While the frames may be cheap, features like special coatings, multifocal lenses, or progressive lenses can increase the price.
It's important to always schedule a comprehensive eye exam with your optometrist before purchasing eyeglasses to ensure your prescription is up-to-date. This also makes purchasing easier, as many optometrists offer a wide selection of frames and lenses.
What Affects How Much Glasses Cost?
There is no set rule for how much a standard pair of glasses costs, as every person's vision needs are different. It's important to speak with your optometrist and consider what variables are in play so you can determine what to expect. Since there are so many options for lenses, frames, and designs, it's common for the price to change.
Some of the factors that can affect the price include:
The type of lenses needed: Single-vision lenses are the most common (the standard type of glasses lens), but they aren't the only option available. Multifocal, transitional, and anti-glare lenses are common choices as well. However, since they require different shapes, materials, or coatings, they can increase the cost of the glasses.
The type of frames used: While plastic is one of the more common materials used, metal choices are also available. The shape, material, and even brand can weigh heavily into the overall price of the finished product.
Prescription: If you have a certain vision condition like astigmatism or require a specialty lens, the cost increases, as the equipment and skill needed to create these lenses are different.
Coatings or other adjustments: Things like reflecting coatings, glare protection, blue light protection, or scratch-resistant coatings can cost extra.
What's the Average Cost of Glasses in Canada?
The average cost for a standard set of single-lens prescription eyeglasses is typically between $100 and $500, but this can change drastically depending on the factors mentioned above. It's important to note that this is a general estimate, as the actual cost has many variables. While basic frames and lenses are generally affordable, other factors can drastically change the price.
The cost remains fairly low if you're looking at simple glasses with a single-lens prescription. However, once you start thinking about name-brand or designer eyewear, the cost can be anywhere from $500 to over $1000. Discussing your options with your optometrist to help you know what to expect from the final price is important.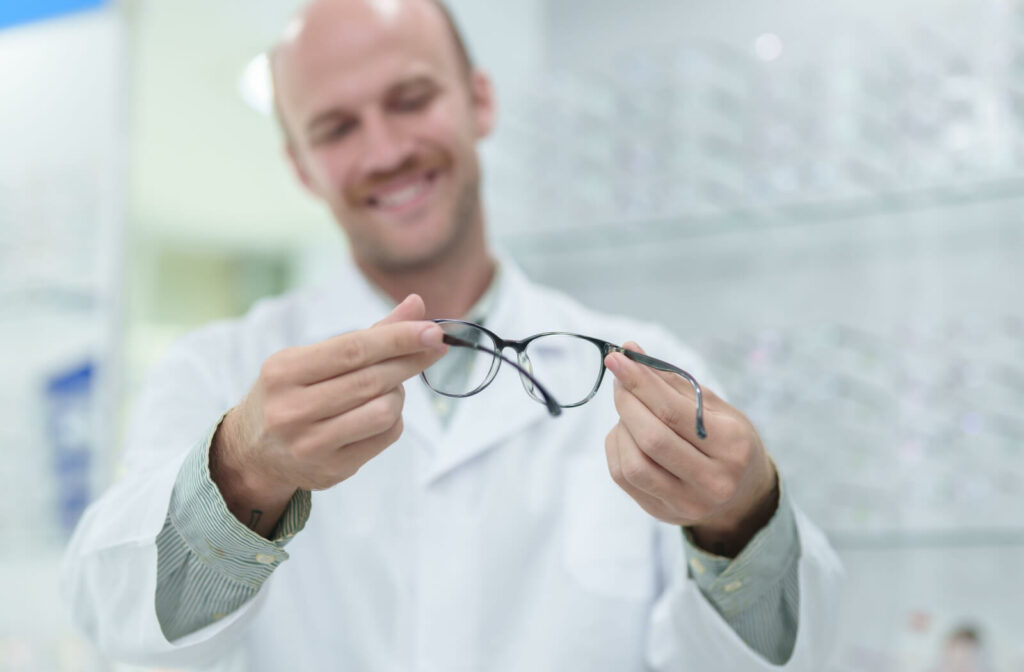 Where's the Best Place to Buy Glasses?
The best place to buy eyeglasses is simple: from your optometrist. They have the expertise to determine your exact prescription properly and can order the lenses you need for your vision needs. An optometrist can advise you on brands, frames, and lenses to help you purchase comfortable and affordable glasses.
While many online retailers offer glasses at a low price, it's important to exercise caution. More often than not, it's a good idea to follow the rule "it's too good to be true." By purchasing your glasses through an optometrist or licensed retailer, you can be sure you're buying from a legitimate source.
An optometrist also guarantees that you're getting the right prescription, proper fit, and a high level of customer service. If something needs adjusting, it can be performed accurately with a practiced touch.
How to Find Affordable Eyeglasses
It's best to book a comprehensive eye exam with your optometrist when you want to buy a new pair of eyeglasses or match your existing pair. They can help you find the right frames and fit and ensure your prescription is accurate.
At Aurora 2020, we know the importance of having the right pair of glasses at the right price. Schedule an appointment with us today so we can help you find the perfect fit for your next pair of glasses at a perfect price.