Rewetting Solutions
Many people enjoy contact lenses as a convenient, frames-free vision correction option. While there are many benefits to contacts, they work best and last longest when you practice proper lens care. Using a contact lens solution to clean and store your lenses in helps remove buildup and prevents soft contact lenses from drying out.
But when your eyes are bloodshot and feel dry or gritty, can your contact lens solution work as a substitute for eye drops?
Unfortunately, you shouldn't use contact lens solutions as eye drops. Learn about the differences between contact lens solutions and eye drops and how different eye drops types can affect your lenses.
Eye Drops vs. Contact Lens Solution
After cleaning your contact lenses, small amounts of contact lens solution may remain and reach your eye. While this trace amount of solution is safe, applying larger amounts of solution directly to your eyes can cause some irritation.
The main ingredient of contact lens solution is saline (salt and water), which is a safe ingredient to use in the long-term. But, your contact lens solution also contains cleaners for disinfecting your lenses. These cleansing components remove organic material and can compromise your tear film.
Your tears are mostly water, but they also contain nourishing components like electrolytes, fatty oils, proteins, and sodium (the reason tears taste salty). A contact disinfecting solution can deteriorate these properties in your eye's tear film when used over time or in larger amounts.
Your tear film protects your eye from infection, bacteria, and foreign objects (such as dust or dirt). It's also crucial for maintaining your eye's front surface, providing nourishment and moisture. When the eye doesn't produce enough tear components to support its health, it can lead to chronic dry eye.
You should never apply contact lens solution directly to your eyes. Repeated and significant exposure to contact lens solution can lead to eye irritation and redness.
Can You Use Eye Drops as Contact Lens Solution?
If you run out of saline solution, it's not advisable to use eye drops instead. Eye drops aren't designed to remove contaminants from contact lenses. Instead, they can cloud your lenses or increase deposit buildup.
Also, avoid using plain water to soak or rinse your lenses. Tap water can contain microorganisms that stick to your lenses and can cause eye infections.
Unfortunately, there's no substitute for contact lens solution. Creating a DIY solution in a pinch can be unsafe, as there's no way to guarantee the materials are sterilized.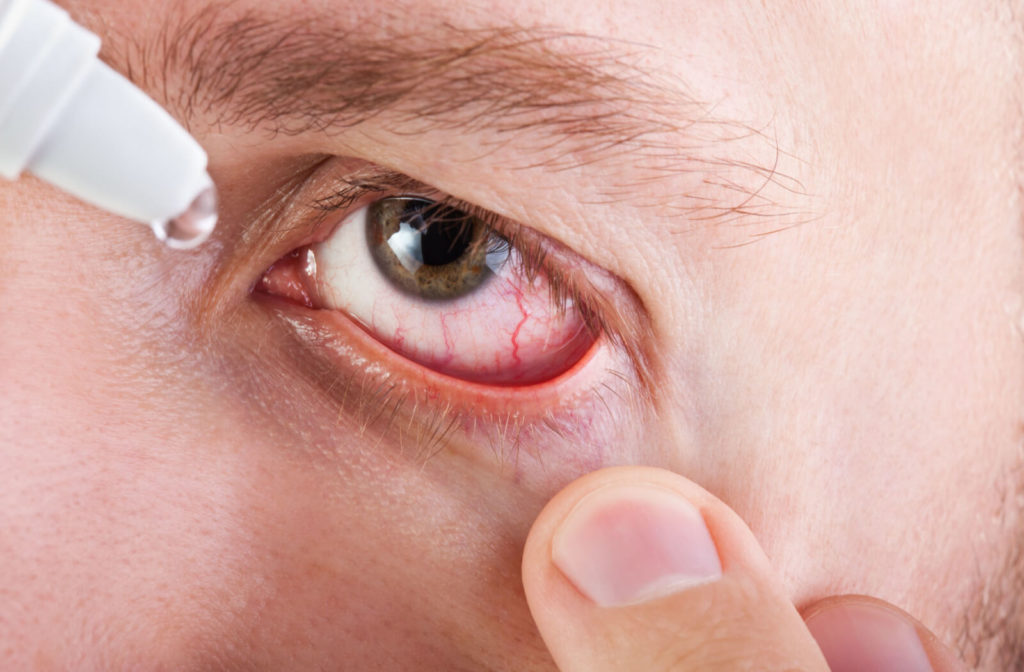 Eye Drop Types
Many types of eye drops are available for a wide range of purposes. Some are safe to use with contact lenses, while others aren't.
Rewetting Eye Drops
Rewetting or contact lens eye drops rehydrate your lenses and help lubricate your eye. Usually, rewetting eye drops are specifically designed for use with contact lenses and are located near contact lens solutions in stores.
Rewetting drops can temporarily help improve your eye comfort.
Dry Eye Drops
Dry eye drops or artificial tears like Restasis help add moisture to the eye by supporting the eye's natural tear film. Dry eye drops range from low to high viscosity (watery-like to oily-like). This thicker consistency can add a slimy or gummy buildup to your contact lenses.
Some dry eye drops are safe for contact lens wear, but look for the "for use with contact lenses" manufacturer label or talk with your optometrist before using them. Your optometrist can determine which eye drops are appropriate for your eye health, comfort, and contact lens care.
Vasoconstrictor Eye Drops
When tiny blood vessels in the conjunctiva (the clear tissue covering the whites of the eye) become irritated or inflamed, your eyes can appear bloodshot or red. Redness-relieving eye drops contain vasoconstrictors, which shrink the blood vessels.
While reducing redness can make your eyes look healthier temporarily, frequent use can cause rebound redness, a form of tachyphylaxis where symptoms often return worse than before. Relieving redness can also mask symptoms, delaying treatment for eye problems like inflammation or infection.
Avoid using vasoconstrictor eye drops when wearing contact lenses, as the solution can cloud your lens. You may also experience worse redness or dryness, as lens deposits can irritate the conjunctiva. Overwearing your lenses can also aggravate the eye and cause redness.
Medicated Eye Drops
If you've been prescribed medicated eye drops, best to give your eyes a contact lens break when using them. The medication can contribute to deposits on your lenses, and your lenses may prevent the medicine from absorbing completely, reducing effectiveness.
Medicated eye drops can include allergy eye drops or prescription eye drops for treating eye diseases or infections, such as conjunctivitis (pink eye) or glaucoma.
Contact Us for Contact Care
Contact lens wear and care can involve a lot of steps and solutions, but every part is worth it to protect your vision. When you need help with care tips, contact us at Aurora 2020. Our aim is to support your long-term comfort and eye health.
Our team is here for you every step of the way, from contact lens exams and fittings to contact lens care advice. Contact us for an appointment today!