Leading an active life and playing sports can require extra preparedness and scrutiny when it comes to deciding what to use as safety equipment. Oftentimes, we forget about protecting one of our most delicate features during organized sports: our eyes.
Eye injuries most often occur playing baseball, basketball, hockey, and racquet sports. Very few sports require protective eyewear in their rules, and people rarely encourage their loved ones and children to wear extra protective eyewear when it is not required.
If you are looking for protective eyewear for use during sports, Aurora 2020 has an inventory of safety eyewear that boasts brands and styles that will perfectly fit your needs. If you have sustained an eye injury caused by participating in sports, do not hesitate to contact us for emergency eye care.
Baseball
In the United States, most sports-related eye injuries between the ages of 5 and 14 occur while playing baseball. A batted baseball has a 3.5 times higher likelihood of causing an eye injury compared to a pitched baseball, but most players will only wear protective eyewear at bat and not when they are in the field. Wearing protective and durable sport goggles throughout an entire game of baseball is the best solution to preventing any unwanted eye injuries.
Potential eye injuries that can be sustained from playing baseball without the presence of safety eyewear include:
corneal abrasion
orbital fracture
hyphema, which can lead to glaucoma
ruptured eyeball
cataract
detached retina
Hockey
Hockey contains many different variables, and if a player is not careful or aware enough, their safety may become compromised. Skates, sticks, pucks, elbows, and shoulders all frequently come into contact with players as part of the game — when these variables come into contact with a player's face or eyes, it can generate a cause for concern.
Minor hockey leagues require full-face cages or shields to protect players' faces from being injured and ensure the longevity of players' vision. At a semi-professional, professional, or adult recreational level, the rules on face protection can differ based on the league. For example, in 2013, the NHL created a rule that required all new players in the league from that year forward to wear visors.
The most effective way to prevent eye injuries from occurring while hockey is to wear a visor or face cage. If sports-related injuries are a concern in general for you, consider looking into non-contact leagues as an alternative to contact ice hockey.
Basketball
Basketball is the leading cause of eye injuries when including all skill and age groups out of every sport. Basketball does not require any type of safety gear or equipment during play that is designed to protect players from sustaining injuries. It is recommended by eye doctors that players protect their eyes with sports goggles to deter any chance of an eye injury occurring.
In any physical sport where falling, abrasions, cuts, or impacts can occur, our eyes are more at risk of sustaining injuries like corneal abrasions or orbital trauma.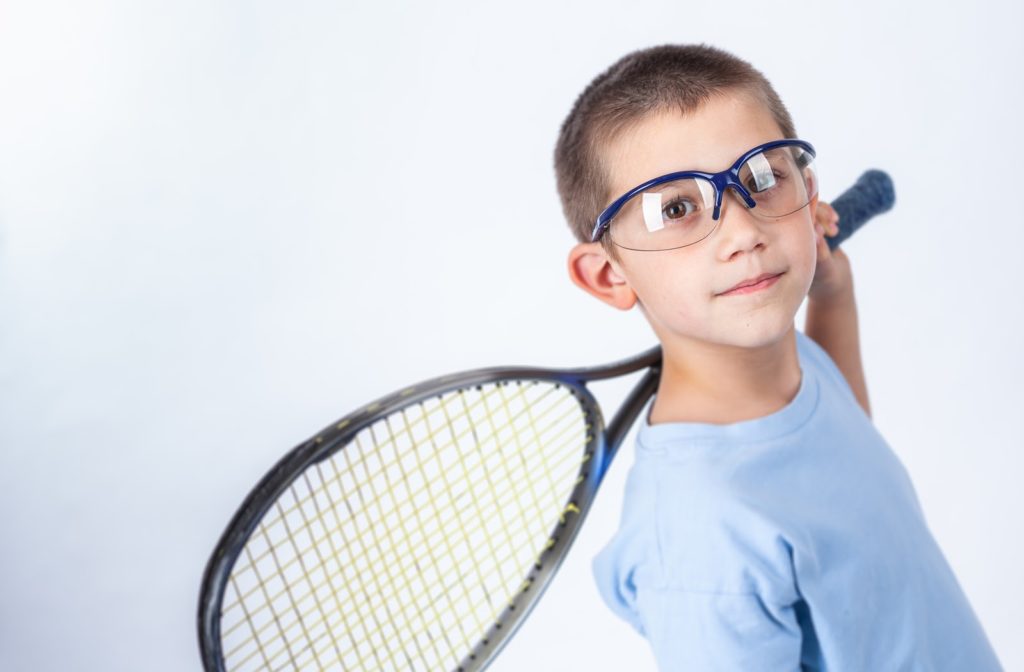 Squash & Racquetball
Squash and racquetball are fast-paced and require great focus. Sometimes though, we are not able to keep up with what is happening during a game and can incur an injury by accident. Eye injuries frequently occur in squash and racquetball due to their fast pace and the use of racquets in a close proximity.
To play these games, it is required to wear protective safety goggles while you are on the court. Opting to not wear protective eyewear can greatly increase your chances of sustaining an eye injury and lead to permanent damage to your vision.
Snowboarding & Skiing
Ski and snowboard goggles can prevent potential trauma to the eye through their durability and strong materials. Falling is almost inevitable when out on the mountain, so a good pair of goggles can save your vision from being damaged.
Goggles also help reduce glare from the sun and keep snow out of your eyes; this lets you stay more alert and aware when you're riding, and can potentially save you from incurring any injuries. Along with a quality helmet, a good pair of goggles is essential for any skier or snowboarder.
How to Choose Safety Eyewear
Safety eyewear is typically designed to prevent all types of eye injuries that could be sustained during a sporting match of any kind. The two major injuries that safety eyewear will prevent are:
Blunt Trauma– this occurs when an object hits your eye with blunt force. Injuries caused by blunt trauma include retinal detachment, iris injury, and retinal tears.
Corneal abrasion- this can occur when a foreign object comes in contact with the eye's surface. Abrasion can result in eye redness, blocked tear ducts, infection, or vision impairment.
Eye injuries during sports are highly preventable; in fact, 90% of injuries caused to the eye during sports are preventable by wearing safety eyewear. The team at Aurora 2020 will be able to help you find safety eyewear that fits your needs, and are happy to discuss the latest materials, designs, and technology going into protective eyewear with you.